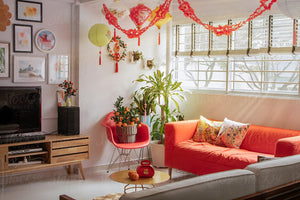 How to decorate your home for the Chinese New Year
How to make Chinese decorative knots
To make Chinese good luck decorative knot you need a one-meter long paracord, for the best effects get a red color.
Place the paracord vertically on a flat surface and fold it in half.
Find your paracord center; it will be your top loop.
Fold-down about ten centimeters from the center, and make another loop which will be your right loop. (Make sure to hold down the center with one hand throughout this activity).
Repeat step 3 to create a left loop of the same size.
Take two loose strands on the bottom, and parallel to the loop at the top, fold them on the left loop. It should make a hole in the bottom left of the center.
Fold the left loop on the two loose strands and the top loop and place it about halfway on the right loop.
Fold the top loop on both right loops.
Fold the long right loop through the hole that was opened from step 5.
Tug all the loops and two loose strands together to form a knot. Do not tighten the knot too much, just enough to keep a good square shape in the middle. Keep the loops large enough to fold more.
Fold the left loop to the bottom loop and leave a hole open.
Fold the bottom loop on both loops on the right side and place it on the right side of the loose strings.
Fold the long right loop over the top loop and the loose strands.
Fold the two loose strands on the left loop and through the open hole.
Pull all the loops and strands outwards and tie the knot together. There should be a little tag on the edges of the square middle. Pull them out to form a mini-loop and tighten all the loops and strands again. That's all.
How to decorate your home for the Chinese New Year
To decorate your home for Chinese New Year, there are some great decorations that you can use to create a beautiful environment. Follow the steps on how to decorate your home for the Chinese New Year.
Chinese Lanterns
Red lanterns are most famous during the Chinese New Year and the Lantern Festival. These lanterns have become synonymous with Chinese businesses, and restaurants hang them all year.
New Year Greeting Cards
Exchanging greeting cards is a Chinese New Year's tradition that people send to friends, family, and teachers by writing words of blessing and wisdom.
Floral Arrangements
Beautiful arrangements of Chinese flowers play a big role in decorating homes for the Chinese New Year. Since the Chinese New Year is also known as the Spring Festival, beautiful flowers celebrate the arrival of this time of year. The most popular flower arrangements will be orchids, peonies, plum, and peach blossoms.
Chinese Paper Cuttings
Every year, to celebrate the Chinese New Year Chinese people cut out patterns from paper. Red is the most common color used because it represents good luck and prosperity.
Wonderful Fruit
On Chinese New Year, many rooms in Chinese homes are usually filled with trays of oranges and tangerines but there must be exactly 8 pieces of fruit because 8 is a symbol of longevity and infinite goodness.
How to make decorations for Chinese New Year
You can make Chinese New Year Decorations out of red packets:
Chinese lantern
With the simple material, you can make Chinese lanterns including red paper and gold paper (one sheet each), two to three red packets (different colors), a pencil, ruler, regular scissors, glue, tape, and stapler.
Red Packet Chinese Fan
With the simple material, you can make a Chinese fan including red packets, gold thread, cute stickers, scissors, and glue.
Ang Pao Cracker
Material required to make ang pao cracker is: toilet roll, red packets (at least three), scissors, glue, aluminium foil
Toilet Roll Oranges
To make this required: toilet roll, red packets (at least three), scissors, glue, aluminium foil
New Year Packet Basket
Material required for this is: 20 red packets, cardboard, scissors, glue, tape
Wheel of Fortune
It requires 10 rectangular red packets or 20 square red packets, a stapler, scissors, glue, gold thread, tail ornament
Cherry Blossoms Card
To make this require: red packets, white paper, water paint, brush, scissors, glue, cardboard
Chinese Fish Ornament
To make a Chinese fish ornament require: red packet, scissors, glue, ruler, stapler, red thread
Where to put Chinese new year decorations
It is an ancient Chinese tradition to hang bright red banners and signs with good luck messages for the New Year. You will find them at the home entrances gates as well as around the city. You can decorate your room, hang it in the living room or by your front door so that when your guests arrive, they greet the visitors with a happy Chinese New Year wishing them good luck and prosperity in the coming year.
How to decorate for a Chinese new year party
On the evening of Chinese New Year, Chinese do most of the Spring Festival decoration, even though people start decorating their homes ten days before New Year. Most of the traditional decorations include red colour and lucky pictures.
Chinese Red Lanterns
Chinese red lanterns are used at Chinese New Year and the Mid-Autumn Festival. It is common to see lanterns hanging on trees in the streets, office buildings, and doorways, during the Chinese New Year. It is believed that hanging a red lantern in front of the door protects from bad luck.
Door Couplets
Couplets are pasted on the door at Chinese New Year. Good wishes are expressed on the couplets. New Year's greetings are usually posted in pairs because in Chinese culture even numbers are associated with good luck. Couplets are Chinese calligraphy brush works in black ink on red paper.
Paper Cuttings
Paper cutting is the art of cutting designs off the paper and then pasting them on the transparent surface or contrasting backs. For people in northern and central China, It is tradition to glue red paper sheets on windows and doors.
New Year Paintings
During New Year's decorations and as a symbol of New Year's greetings, paintings of New Year are pasted on doors and walls. There are legendary figures and plants painted on the paintings.
Kumquat Trees
Kumquat tree is an auspicious plant, is called Jinju Shu, and the Jin word is the Chinese word for gold. The word Ju is a Chinese word that means good luck. Having a Kumquat tree at home is a sign of the desire for both wealth and good fortune. During the Chinese New Year holidays, especially in the Cantonese-speaking regions of southern China, such as Hong Kong, Macau, Guangdong, and Guangxi, the Kamkot tree is a very popular plant.
Blooming Flowers
It is common to decorate homes with blooming flowers, which is a sign of the coming of the spring season and wishes for a happy new year. Among the most popular flowering plants traditionally used during this period are: orchids, branches of plum blossoms, peonies, and peach blossoms.
When to put up Chinese New Year decorations
Chinese people always put New Year decorations a week in advance to celebrate the Chinese New Year. These include traditional Chinese decorations such as the Fu character images and spring festival couplets on Chinese New Year's Eve.
---