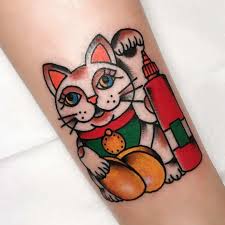 Maneki Neko Tattoo Ideas, Symbols, and Meanings
A Maneki Neko is a Japanese lucky piece and lucky charm which is believed to attract the luck and fortune of its owners.
Maneki Neko Cat Tattoo Symbol
Since ancient times, many stories have been told about Maneki Neko's lucky cat tattoo; these are fortune cats or Japanese lucky cats. Maneki Neko traditional tattoos are commonly used as lucky pieces or amulets, bringing happiness, success, good luck in the home, and prosperity in business.
Maneki Neko Tattoo Meaning
The traditional Maneki Neko tattoo, also known as Maneki Neko lucky cat tattoo, has become popular in various prominent colors. Raised right paw attracts good luck and fortune. Raising all four legs (which is rare) is also a sign of good luck and fortune and attracts relationships. Typically, Maneki Neko is represented as having a koban (gold coin) in an oval shape. The writing on lucky cat coins and symbols is usually a phrase of hope for good.
Paw placement symbolizes:
If Maneki Neko has raised the right paw, it will bring good luck and money while the left paw attracts customers. Sometimes one would like to get both; that's why both cat's paws are raised for good results. Raised both paws are also a sign of protection. If you want your Maneki Neko tattoo to cover all the bases, prefer to get one with both raised paws.
Eyes symbolize:
Closed both eyes of tattoo Maneki Neko will bring you good luck shortly, so this is the best for what you need right now. It may take longer, but the Japanese cat with both open eyes suggests luck for some longevity.
Origin Story of Maneki Neko
Like many legendary figures, many want to claim Maneki Niko. Some say it is a Chinese figure; others say it is Japanese. After all, the lucky cat is of Japanese origin, but it also depicts Chinese folklore. There are many conflicting origin stories for Maneki Neko. Here is one of the most famous stories: A cute lucky cat lost its head in the scariest story.
The story goes that Geisha had a cat that she loved, but she won't stop clawing at her kimono one day. The owner of Okiya (Geisha's house) thought the cat had it. The owner cut off the cat's head very quickly. Then the cat's head flew towards the ceiling fan, and he dug its teeth into the snake which was waiting to attack the Geisha. She was devastated to lose her pet and console her; she was gifted a cat statue. It's a story of raised cat's paw because it scratched Geisha's kimono to warn her about the snake.
Japanese Maneki Neko Tattoo
These kitsch, gold ornaments are typical everywhere in the world's Chinatowns and Asian stores; these beautiful miniature sculptures are Japanese. It is named Maneki Neko in Japanese, which is true to its name and opposite to popular belief, which is not waving.
Maneki Neko Tattoo Black and Grey
Maneki Neko Tattoo was white originally, but over the years, with the combination of feng shui, color variations have emerged. The original white color is for good luck and pure happiness, while the black Maneki Neko tattoo is for removing evil, grey is for security and stability, purple is for long life and beauty, yellow or gold is for wealth, green color bring luck in academic achievements, red is for good health and pink is for romance.
Maneki Neko Tattoos Themes
In lucky cat tattoos, key chains, statues, etc., you see a lucky cat embellished with some valuables. You need to choose each tattoo wisely, as each of these pieces has its meaning. A wise selection of Maneki Neko can be a great way to represent more than one area where your life can use a little luck. Maneki Neko may have a gavel which is a symbol of wealth. The coin or marble also symbolizes wealth. A fish represents good fortune, while Maneki Neko with a bib holding a bell represents protection. The lucky cat tattoos were also found holding prayer tablets, daikon radishes, gourds, and ingots. These items also represent wealth and good fortune.
Maneki Neko Tattoo Designs
This is not a religious figure, so you do not need to be so devoted to the tattoo design. Some people love to get a Maneki Neko similar to traditional lucky cat statues; others smooth out the lines, so it looks like a regular cat. This Maneki Neko tattoo will look amazing in classic Japanese tattoo style, but it can also pop into a new traditional design due to its conventional and cartoonish elements.
Here are few Maneki Neko Tattoo designs:
---